news:
High Performance Audio Solutions

Updated January 27, 2018

January 27th 2018

NEW PRODUCT ANNOUNCEMENT!
Sonic Imagery Labs has released the Model 252AP operational amplifier module. The 252AP is best suited for use in circuits with medium to high source impedances and with microphone input transformers with high turns ratios (> 1:4).The Model 252AP is a
modern re-engineering and redsign of the classic API2520 discrete op-amp. It was designed as an enhanced higher performance upgrade replacement with a focus on superior AC and DC performance. An option is also available for a Ultra Damn Low Noise variant making the 252AP one of the lowest (<0.650nV/√Hz) equivalent input refered noise voltage discrete audio opamp in the world. A comprehensive datasheet is available for download now.

March 26th 2017
Sonic Imagery Labs welcomes Acoustic Technology Mfg. of Spain as a new reseller/dealer of the audiophile line of Sonic Imagery Labs opamp modules. Customers in western Europe, Spain Portugal can purchase the Sonic Imagery Labs 994 and 992 Enh-Ticha high performance discrete opamps directly from Acoustic Technology Mfg. Contact information can be found in the resellers list here.

October 30th 2016
Sonic Imagery Labs has published the Model 996VP-LZ Transformerless Balanced Preamp Application Note AN-19 An updated revision of the Valley People Trans-Amp LZ Preamp and interfacing with modern ADC and DAC application notes.

October 2nd 2016
NEW PRODUCT! Sonic Imagery Labs has released the Model 996VP-LZ Balanced Dual Unbalanced operational amplifier module. This module is a pin compatible higher performance drop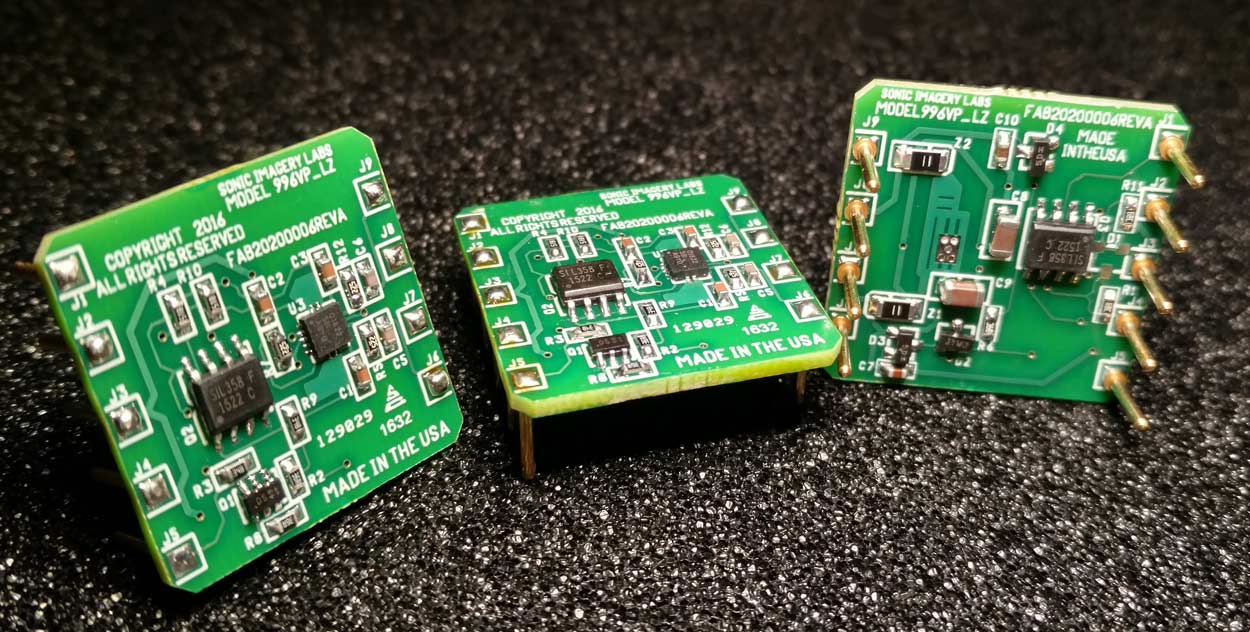 in upgrade replacement for the long obsolete Valley People Trans-Amp LZ. An option is also available for a Ultra Ultra Low Noise variant making the 996VP-LZ the lowest (<0.450nV/√Hz) equivalent input refered noise voltage semi discrete BALANCED audio opamp in the world. A comprehensive datasheet is available for download now.
June 27th 2016
Summers is in full swing here in Silicon Valley! iQSpeakers and there companion company NordAcoustics of the United Kingdom integrates the Sonic Imagery Labs 994Enh-Ticha Dual high performance discrete opamp in there Nord One UP Hypex NCore NC500 Amplifier and Nord Input Buffer. There is also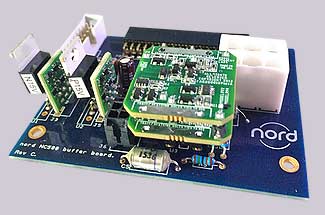 a very nice review from HiFi Wigwam regarding the Nord One UP 500DM ST amplifier with the Sonic Imagery Labs 994Enh-Ticha Dual opamps installed.
August 24th 2015
Back to school as summer winds to a close. We added the new Model 1114A DIP8 to SOIC8 PCB adapter to our product line up. Customers can also purchase the LOW VOLTAGE variants of the 992Enh-Ticha Discrete Opamp and the 994Enh-Ticha Dual Discrete Opamp directly without having to contact us via email and arrange production pulls and rework orders here at the factory. They are simply now in stock all the time. We have also added some more detailed information regarding pin length options for the 990Enh-Ticha and 995FET-Ticha opamps when used for vintage and retro-clone upgrades. See the APPLICATION NOTE AN-18. An option button should show up soon on the ordering info page allowing customers to specify PIN LENGTH at the time of purchase for 990Enh-Ticha and 995FET-Ticha opamps.

October 31st 2014
Happy Halloween! Its been a busy summer and fall. We welcome our latest commercial customers of our products.


Pettyjohn Electronics of Albany Oregon uses the Sonic Imagery Labs 992Enh-Ticha as the LNA Preamp in there new guitar preamp/predrive pedal. And we added lots of user projects to the Wall of Fame.
May 25th 2014
Added another user project to the Wall of Fame.
April 23rd 2014
The website should work a bit better whilst using Google Chrome. Damn you Google! Do ya gotta always break stuff.
March 5th 2014
Added more user projects to the Wall of Fame.
January 20th 2014
Happy New Year! The application note for upgrading vintage SSL, Quad-8, Harrison, Sony and MCI consoles, as well as the herd of rack mounted compressor limiters by dbx and the like, is online in the app notes section and available for download.
December 11th 2013
Happy Holidays! Release the Kraken! The Sonic Imagery Labs Model 312A Voltage Controlled Amplifier Module has been released! The applications for this module are endless. Physicist Joe snatched one off the line and a few hours later he was jamming on his guitar in his office after he constructed a tremolo/vibrato stomp box thing. Photos here. Not exactly what the engineers designed it for but like I said previously, the applications are endless. More specifically designed for compressors, limiters, noise gates, expanders and dynamics control. For new design applications we added some application notes and we will have an application note up in a few days for upgrading SSL, Quad-8, Harrison, Sony and MCI consoles, as well as a whole herd of rack mounted compressor limiters by dbx and the like.
September 12th 2013
JMK Audio in Homewood, Alabama, makers of hand built PRO audio gear, are now using the Sonic Imagery Labs Model 990Enh-Ticha operational amplifier in there JM-530 Mic pre and there JM-110 DI preamps. Read more about there high performance hand crafted PRO audio gear here.


March 26th 2013
Over the years we have been getting lots on inquiry about our opamps in phono preamp circuits. So much so, several of our techs have been building deadbug prototypes here at the lab. They are something to see. I will try to put up some photos in the next few weeks. In the meantime we cobbled together Application Note AN-13 Passively Equalized Phono Preamp so you can build one of my favorites for yourself. If you send pictures of your project we can add them to the collection.

January 27th 2013
The Model 898B is now ready for public consumption. The initial production run has been shipping for a few months to a scientific research group under contract and with that winding down we can now focus on audio stuff again. In a year and 4 monthes we have shipped nearly 2000 units of 990Enh-Ticha Discrete Opamps. We are deep into the 6th production run now. The 992Enh-Ticha Discrete Opamp and the 994Enh-Ticha Dual Discrete Opamp in it's 3rd production run is quickly catching up to these numbers and so it's time for a price reduction. Much to our surprize, the USPS raised overseas flat rate shipping costs from $16.95 to $23.95. Murphy's law in action.

July 10th 2012
Coming out of burn-in and final test now .... The 992Enh-Ticha Discrete Opamp. And the 994Enh-Ticha Dual Discrete Opamp. The same ultra-high performance and circuit architecture as the 990Enh-Ticha Discrete Opamp but with less output drive current (±150mA vs 250mA) and both with the standard DIP8 single and DIP8 dual footprint/pinout. Several clients who are using them in there CD players are calling them the Burson killer. . Here at the Lab we have already reamped several mixing boards with these new opamps for clients and they are loving the new life they bring to there classic gear.

We have also been getting so many requests to adapt this to that and that to this, we had Mr CAD make the Lab a pile of adapters. They disappeared so fast I figured the rest of the world might need them too. Check out the new Model 512 DIY Experimenters Adapter Kit.

And finally, the pilot run of the new Model 898B is getting assembled and tested. This project has been delayed and pushed aside for a long time.

March 19th 2012
Interfacing with DACs Application Note AN-12
We have been getting a lot of inquiry about using the 990Enh and 995FET as the I/V stage of DACs so we wrote a simple application note to help out. We have also added an application note section to the website.

March 8th 2012
Well I forgot we burn-in all our opamps for 200 hours before final test and though it doesnt seem a long time, it turns out to be 9-10days. So my original date for release of the 995FET-Ticha discrete opamp was off a bit. They are coming off final test now and the ordering page and datasheet should be online as you read this. Those who have been inquiring the last few weeks, thanks for being patient.

February 12th 2012
In the few weeks or so we will have 200 fully tested and burned-in Model 995FET-Ticha discrete opamps ready for shipment. Our MarCom group is working on the data specification sheet now and the webpage for pre-ordering should show up by February 17th or so. FET input and VAS stage with Pure Class-A drive. They sound great!

January 16th 2012
For our friends in the DIYaudio world, we have uploaded two application notes. Sort of tailored for folks who like to play with glass tubes and high voltages but equally applicable for the DIY'er who also plays with really big power transistors and power fets. Download it here:
Model 990Enh-Ticha Application Note AN-10
Model 990Enh-Ticha Application Note AN-11
or from the 990Enh-Ticha Discrete OpAmp page.

December 23rd 2011
The 990Enh-Ticha specifications datasheet has been updated and revised from Rev 0 to Rev A. Additional production testing of the last 200 units has our THD+N at 0.00045% or better and our noise is running at 890pV/rtHz.

November 12th 2011
The 990Enh-Ticha Discrete OpAmp and PCB pin sockets set are now available. They are burned in, fully spec'd, fully tested and ready to ship now. No other discrete operational amplifier on the market matches the 990Enh-Ticha specifications. In some cases we beat standard spec's by an order of magnitude. Download the PDF Spec sheet and see for yourself.

November 4th 2011
We finally have broke down and stopped playing in the lab with transistors long enough to create the new Sonic Imagery Labs website. After years of custom design contract work and consulting we have decided to sell to the music and broadcast industry directly online. Over the next few monthes the website will grow as our products start popping off the production line. Our current clients will recognize the products going online now but we have several new products slated for release in Spring 2012. Check back soon.



Since 1988, Sonic Imagery Labs has offered:

* The design of genuine solutions to real signal chain challenges.
* To produce Sonic Imagery Labs products that are a great value and pleasure to use.
* Design & manufacture for maximum quality and the longest life fitting the application

From the high-end audio professional in a major pre or post-production studio to the novice or hobbyist at home.